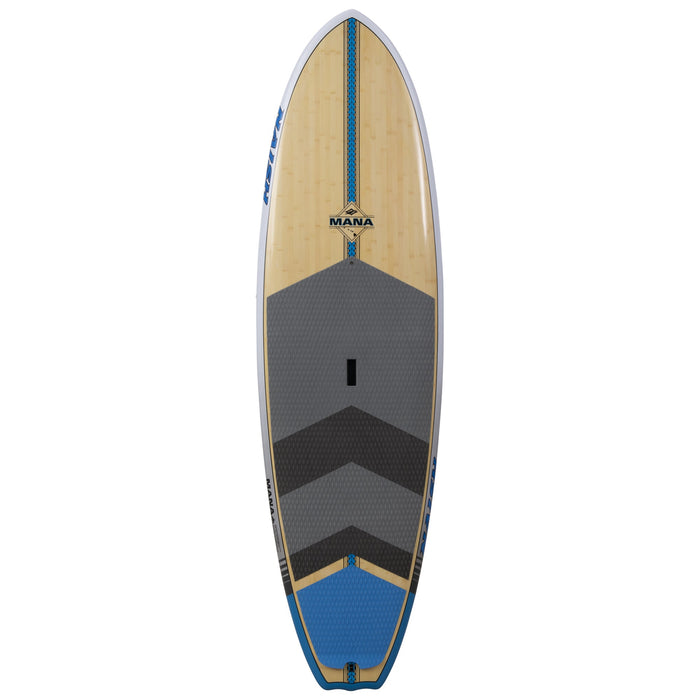 ALL-AROUND WIDE BODY
Designed to meet the needs of paddlers of all abilities, the Mana delivers confidence and ease while surfing or cruising. Compact, stable, and versatile in performance, this board is the perfect all-around cruiser with a limited length, making storing them a breeze. The V bottom shape and exaggerated tail rocker deliver great turning ability, making the Mana every paddlers go-to.
DETAILS
Thruster Fin Setup (MFC 6.5 Center Fin + (2) MFC 4.5 Side Fins) 
The thruster fin setup provides great drive and snappy turns off the top.
Ledge Handle
Provides easy handling and effortless carrying to and from the water.
Grooved & Embossed EVA Pad
The grooved and embossed EVA pad is lightweight, ensuring a strong grip and better durability over time.
Molded EPS Closed Cell Core
The molded EPS closed cell core ensures resistance against potential water leakage, is lightweight, and provides better structural integrity leaving you with a board you can trust.
Wood Stringer Biax Glass Bottom Lamination
The wood stringer biax glass bottom lamination provides superior durability and stiffness.
Full Wood Veneer Deck & Rail Sandwich with Biax Glass Top Layer
Provides durability and stiffness allowing you to ride the board as aggressively as you'd like.
V Bottom Shape and Exaggerated Tail Rocker
Delivers excellent turning ability while surfing.