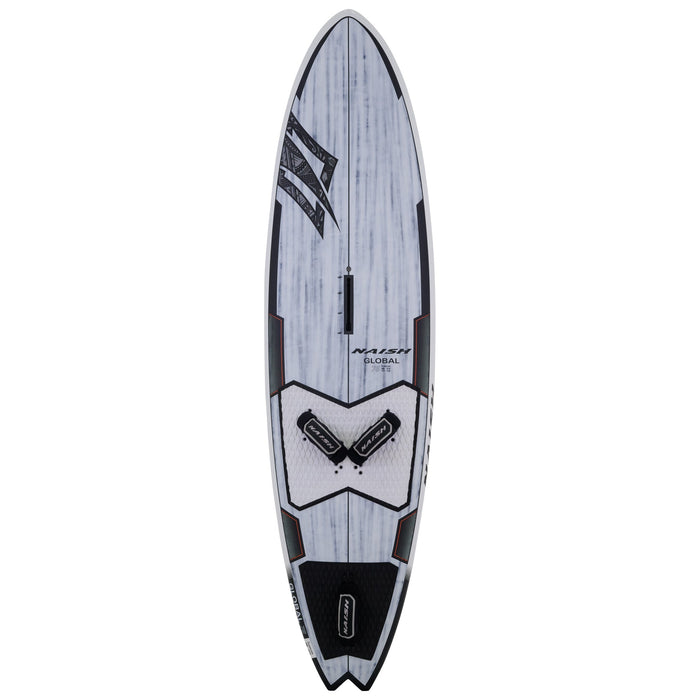 ALL-AROUND PERFORMANCE WAVE
Quickly getting on a plane and reaching top speed is a crucial performance element of the Global that leads to great jumping performance. Combined with a turning ability that allows the rider to drive off his back foot or focus on carving turns off the front foot, this board line truly has everything needed to perform in the widest variety of conditions. It's best suited to side-onshore and onshore conditions while offering enough range to also feel at home in side-shore conditions.
SHAPE DETAILS
The Global's outline carries a bit more width through the nose and tail compared to a Ho'okipa Quad, giving it additional stability and planing ability. The V-bottom shape starts with a slight V in the entry of the nose area that carries into a V with a slight double concave in its midsection, transferring into a clean V release out the tail. The rocker line focuses on early planing and fast acceleration. Combined with the V-bottom shape, we managed to achieve a turning ability that is comparable to other side-shore boards. The Global's rail shape carries a slight edge with a medium tuck through the nose and midsection that turns sharp just behind the front foot area for ultimate early planing and good acceleration.