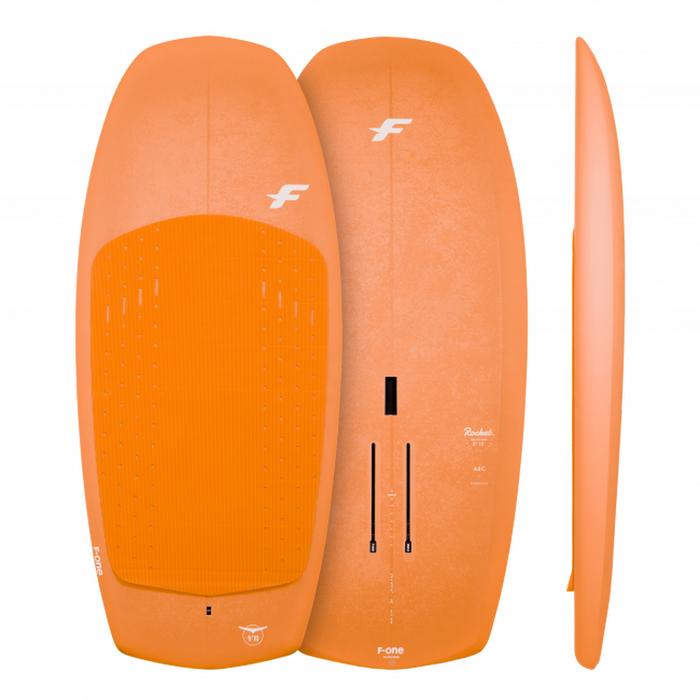 F-one Rocket Wing ASC Foilboard
Sizes
5'0" x 23" 60L (w/ strap inserts)
5'3" x 25" 75L (w/ strap inserts)
5'5" x 27" 90L (w/ strap inserts)
5'10" x 29" 110L (no strap inserts)
6'2"x 31" 130L (no strap inserts)
| | | |
| --- | --- | --- |
|  Accessory Checklist | Included | Not Included |
| Track Hardware | x |   |
| Foot Straps |   | x |
| Board Bag |   | x |
Hard to beat the bang for your bucks on this one. F-ONE has put all its experience in foil and wingsurf  designs to create the ideal board which will suit most of the wingfoil riders needs. With its compact length and light weight, the board is responsive and ideally suited to cruising or surfing on a foil, a wing in your hands.
Fun and responsive
Stable and forgiving
Durable and user-friendly
Using some straight rocker lines for an easy take-off and a wide tail outline for an optimized volume distribution, the ROCKET WING ASC features a sharp beveled rail profile to make the release easier during take-off and the touch-down smoother when the board hits the water again. In other words, you will be up and flying in no time and you won't be unsettled when occasionally hitting the water.
The ROCKET WING ASC is equipped with a recessed handle for easy carrying, a full pad for comfort and with the twin track system on the bottom to connect with most foils on the market (4-bolt plate system). It is built around a light core made of eps foam injected into a specific mold carved to its own shape. This core is then laminated with fiberglass and epoxy resin into another mold and wrapped inside a protective shield skin. This shield, made of polymer, is both ultra-thin and very durable.
ASC
The AIR SHIELD COMPOSITE stand up paddles are constructed around a light weight injected EPS core molded to our original shape. It is laminated with a composite made of high strength glass fiber, epoxy resin and a genuine shield made of a high quality protective topsheet layer. The topsheet is a tough and extremely reliable material also used in the construction of F-ONE twin-tips as well as in most of the skis and snowboards on the market. Thanks to their construction molded in one shot, the A.S.C. SUP are light weight, responsive and extremely durable.
TWIN-TRACKS
The twin track system with lateral spacing of 90mm is becoming an industry standard. This system is compatible with all foils featuring a top plate with 4 fastening bolts. The length of the tracks enables some room to adjust the position of the foil on the board to reach everyone's preferred balance.