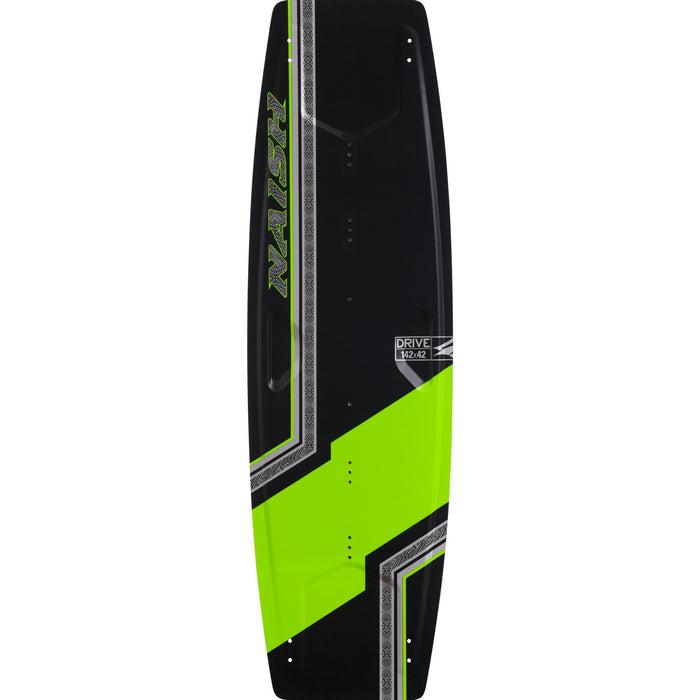 HIGH PERFORMANCE FREERIDE
The Drive features a high performance and lightweight construction with a freeride
shape and unmatched reflex characteristics. The S25 Drive has the same proven bottom shape, construction and rocker with a new deck shape to provide a more consistent flex throughout the length of the board. Centered inserts allow riders to comfortably ride both rails, dramatically extending the board's lifespan. Its carbon-glass construction makes it the lightest board in the Naish line and features enhanced durability with a crisp and responsive ride. The Drive's gradually tapering rails provide lightweight tips and defined edges for outstanding grip and optimized flex. Ideal for intermediate-to-advanced riders who demand an extremely light and responsive board, the Drive delivers superior speed and upwind performance.
PERFORMANCE FEATURES

New Deck Shape = Optimized flex and performance
New Rounded Ends = Smooth ride and smooth
New Corners = Enhanced durability/maximum power + easy transport + improved release
New 5.0 cm IXEF Fins = Better grip + upwind performance
Centered Inserts = Ability to ride both rails increases longevity
Freeride Rocker = Chop-eating & forgiving rocker + back foot directional stability
Low Flex = Powerful & responsive handling
Flex Torsion Control = Boosts rigidity in axial & torsional axis + heightened control
Supreme Pop Wood Core = Unmatched reflex characteristics
3K Carbon = Extremely lightweight + exceptional flex characteristics + high strength-to weight ratio