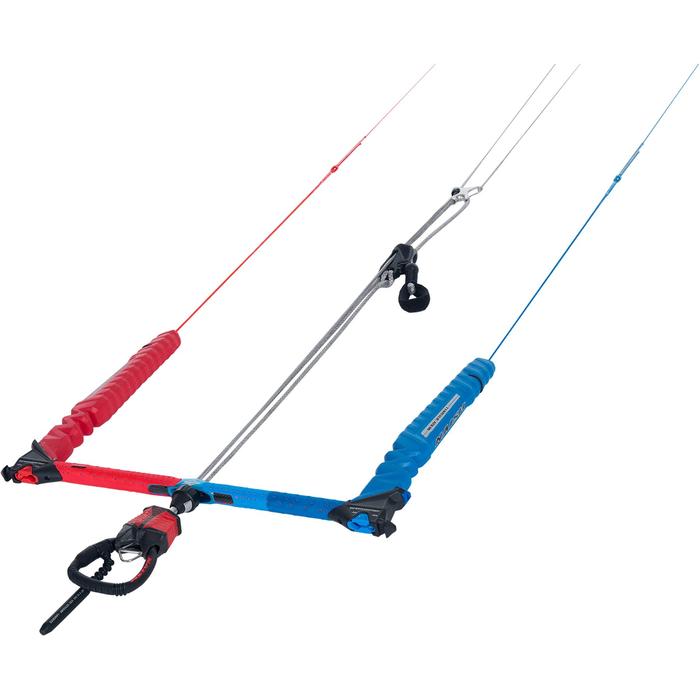 Line Lengths 20m, 24m, or 20+4m

The Torque ATB 55 is a 4-line control system with an Above-The-Bar (ATB) Clamcleat trim that is easily adjustable in height with no tools required. The cleat above the bar is adjustable to give more or less throw. Ideal for a wide variety of freeride, freestyle and wave riding, this bar is equipped with the most advanced trim loop mechanism to date. Engineered for consistent, hassle-free operation, the quick release features a linear release force for easy release and reload regardless of the tension on the line.
TORQUE ATB REVIEWS
The Kiteboarder | "The Torque has the unique distinction of packing a ton of useful features into a light to medium weight and well designed package."
KEY FEATURES
Patented Naish Push-away Quick Release Mechanism = Fiberglass-reinforced polymer with stainless steel core & a below-the-bar ball bearing swivel
Cleat Holder = Smooth flagging line slide
Impact Resistant Construction (Top of Torque Loop Mechanism) = Increased longevity
Pre-stretched TLS 500 Flying Lines = Stiffest front flying lines on the market + even stretch in front & back lines over time
Above-the-Bar Clamcleat?? with Height-adjustable Tuning = Employs natural leverage for quick & easy adjustments
Torque Loop = Efficient & effortless ball bearing swivel + easiest reloading quick release on the market
Bar End Technology'Adjustable Bar Width: 18'- 20'(45'51 cm)
Double Density EVA Grip with Memory Core = Comfortable & controlled non-slip grip
Replaceable Nylatron Insert Stainless Steel Low-V Line Organizer = Easy release & reload
Cored, Stiff Trim Line = Tangle-free design
Heavy-duty Short Kite Leash with Quick Release = Maximum functionality and convenience