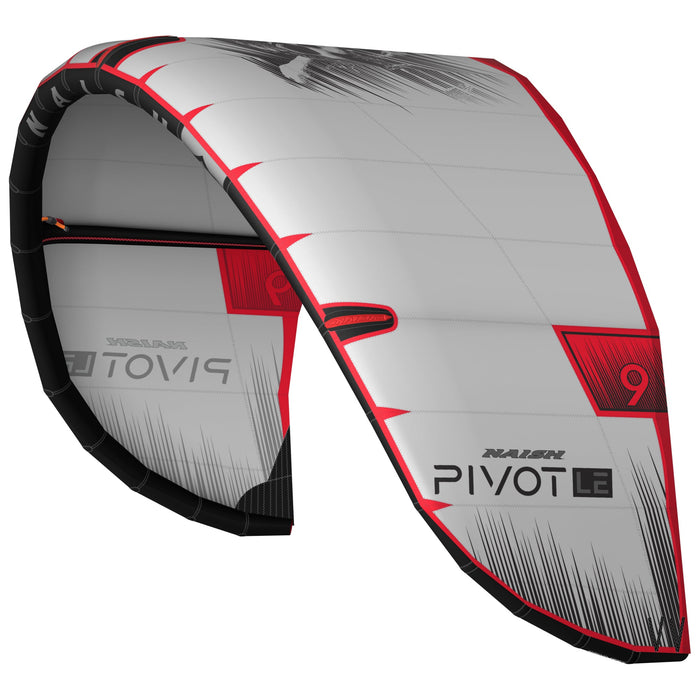 The Pivot is the perfect fit for anyone who wants to do-it-all with one kite. This year, we have made performance changes that benefit the every day kiteboarder and pro riders alike. The new draft is optimized for performance based on kite size, providing more control and increased wind range. Aspect ratios have been fine tuned for a more comfortable all-around user experience. Utilizing Quad-Tex ripstop canopy material, we've been able to design a new Dacron construction on the wingtips to give improved responsiveness with less weight. After almost a decade of development, the Pivot continues to be at the top of the food chain.
FEATURES

NEW - Lightweight Wingtips
New construction uses 50% less Dacron, giving improved responsiveness and decreasing weight
NEW - Optimized Aspect Ratios & Draft
Provide a more comfortable all-around user experience
Bridle Adjustment Setting
Allows you to adjust flying characteristics based on wind speed or rider preference
Quad-Tex Ripstop Fabric
The Quad-Tex Ripstop fabric is an extremely durable material, creating a strong and stiff canopy season after season.
2-Ply Trailing Edge
Buffers and disperses canopy flutter to reduce wear on the kite and enhance durability
HT Plus Seam
Our high-tenacity thread strengthens the leading edge along the seam, allowing you to confidently inflate your kite to a higher pressure for better flying performance
Molded Strut Ends
Provide additional reinforcements to protect the struts from natural wear and tear
EVA Bumpers
Protect the canopy from wear and tear during inflation, launching, and landing
Aramid Patches
Provide protection and reinforcement to the seams on the leading edge
SureLock Valve
Streamlined valve and lock-in pump hose connection
One Point Inflation System
Provides quick and easy inflation and deflation of the kite. All new molded hose clamp covers reduce wear on canopy
Diagonal Load Seam
Distributes kite tension for a more efficient and well-balanced kite and retains canopy tension over time
Progressive Profile
Evolving the profile along the wingspan allows the center sections of the kite to generate power while the flatter tips minimize drag and allow for faster turning

Radial Segmented Arc
Short linear segments accurately and smoothly form the kite's arch
"For 2024, our main goal was to improve the performance and control of our beloved Pivot, while not losing what makes it such a great all around kite. To achieve this, we broke down the range size by size, and analysed what makes each size special, and honed in on that. In doing so, now each kite has optimised designs, bringing the perfect balance throughout the range. The main gains were made in the overall control and flying speed of the Pivot, meaning the 2024 Pivot is a huge step forwards and our best yet. No matter who you are, the 2024 Pivot makes you a better kiteboarder from day one."
- Ewan Jaspan, Lead Kite Designer